Sidival Fila
Brasil, 1962
Nenhuma obra deste artista no momento.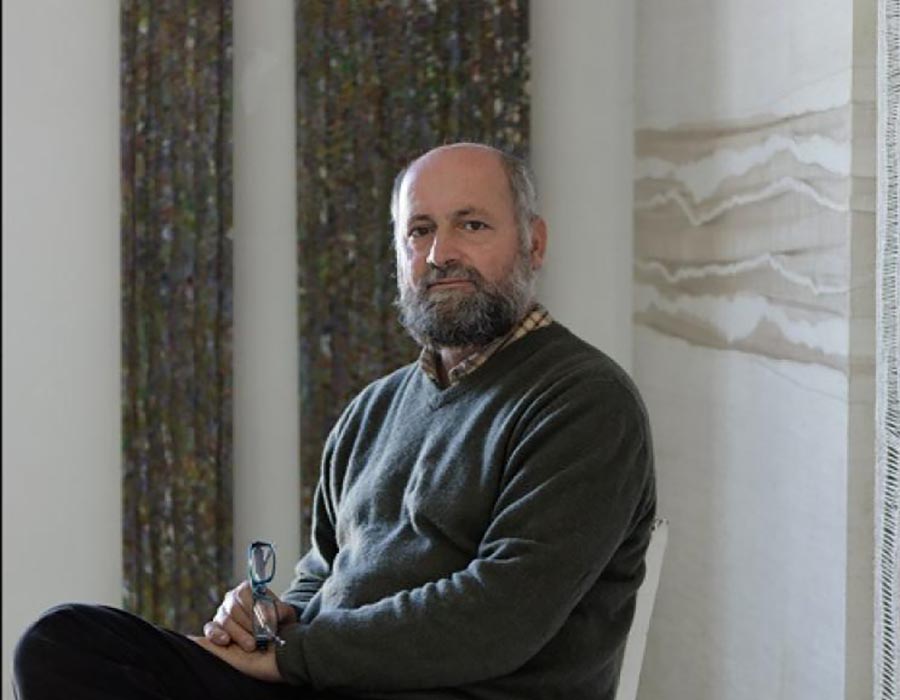 Sidival Fila nasceu no Paraná, em 1962. Vive e trabalha em Roma, no convento dos frades franciscanos de San Bonaventura al Palatino.
Sidival Fila was born in Brazil, State of Paranà, in 1962. Live and works in Rome, at the Convent of the Franciscan friars of San Bonaventura al Palatino.
A constant feature in the aesthetical path of Sidival Fila, an artist and member of the Franciscan Order of Friars Minor, is his research for contact with matter. This includes humble material, discarded objects, all the way to free and introflexed fabrics. His works of art aim at giving a voice back to these materials, as he attempts to tell their story and enable the perception of their vibrations. Sidival Fila as an adolescent he began to be deeply interested in plastic arts, particularly painting. He loves Medieval, Renaissance and Baroque, but feels most attracted by modem artistic movements from Impressionism to Cubism. After a few years, and after various work experiences he decided to give way to his vocation to religious life, and thus abandoned his worldly projects and entered the Order of the Friars Minor of San Francis of Assisi.
In 2006 he organized his first personal exhibition at the Convent of St. Bonaventure in Frascati. He was invited in 2010 to exhibit at "Trasparenze: l'Arte per le Energie Rinnovabili", a collective exhibition held at the MACRO Museum in Testaccio in Rome ; in 2011 "The Splendour of Truth and the Beauty of Love – Artists for Benedict XVI on the 60th anniversary of his Ordination". In 2012 the Gallery Ulisse dedicated and exhibition "Dittico sull'Orlo dell'lnfinito" to Agostino Bonalumi and Sidival Fila. Sidival also exhibited in the solo show "Le pieghe della luce" at the ex GIL Palace in Rome. In 2014 he participated in the project "Atelier d'Artista" at the Galleria Nazionale d'Arte Moderna e Contemporanea, in Rome. It's of 2015 the "TrasFormAzione" exhibition (together with Yves Klein and Tito) at Bilotti Museum and in 2016, he exhibited at the Embassy of Brazil in Italy, at Palazzo Pamphilj in Piazza Navona. In 2016, there is the exhibition "DRÔLES DE TRAMES!", at Le Fresnoy – Studio des Arts Contemporains – in Lille, France, where its works are called to dialogue with important artists such as Thomas Bayrle, Blanca Casas Brullet, Dan Flavin, Sheila Hicks, Ryoichi Kurokawa, Sol LeWitt, Jean- Michel Meurice, François Morellet, François Rouan and Pablo Valbuena. In May 2017, one of his project won the selection organized by Sankt Peter Kunst-Station in Cologne (Germany), where, in the spring of the same year, Fila proposed a site specific installation that invests the entire architectural structure. In December 2017 RI-NASCITA, realized in collaboration with Fondaco Italia in the Arches of the Papal Palace of Rieti. In the same month of Dicember 2017 he inaugurated the first solo exhibition in France at Jérme Poggi Art Gallery in Paris and at Parisian church of Saint Eustache. On 2018 has been performed an at Palazzo delle Scintille, in Milan, for the presentation of the Moncler collection by Pierpaolo Piccioli, Valentino's creative director, within the Moncler Genius Collection Fall 2018-2019 project. On February 2018 Sidival Fila has been the protagonist of a prestigious exhibition at San Fedele Gallery in Milan, dialoguing with main masters of Italian art such as Lucio Fontana and Jannis Kounellis. In
May 2018, Silvana Editoriale published the official monographic text by Elisa Coletta and from September to November numerous site-specific works were exhibited at the Palazzo Ducale in Sassuolo, part of the National Museum " Gallerie Estensi", in a solo exhibition entitled "Sidival Fila: Prospettive Relative". Also in 2018, the works of Sidival Fila were exhibited in some of the most important international fairs, in the cities of Madrid, Bogotà, Mexico City and New York. Currently, Sidival Fila is present at the Venice Biennale 2019 with the polyptich "Golgotha", a site-specific installation inside the Venice Pavilion, at Giardini della Biennale.
Nenhum artigo sobre esse artista no momento.